ABS Classes US-Built Liquefied Gas Barge
Views: 6 Author: UC Marine Equipment Co., Ltd Publish Time: 26-07-2017 Origin: www.ucmarine.com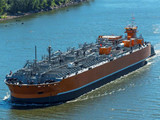 ABS Classes US-Built Liquefied Gas Barge
US-based classification society ABS has classed the Harvest, an articulated tug barge (ATB) purpose-built to transport liquefied anhydrous ammonia, which has been delivered to a subsidiary of Savage Companies by US shipbuilder Vigor.
The Harvest is the first complex liquefied ammonia transport barge built in the US since 1982. ABS also classed the connecting tug, Abundance, which was constructed and delivered by Washington-based Nichols Brothers Boat Builders.
The vessel will support the Jones Act trade of Tampa Port Services, LLC, a subsidiary of The Mosaic Company. Carrying up to 22,000 tons of anhydrous ammonia (NH3), the ATB has a length of 154 meters and a beam of 29 meters.
"The delivery of this ATB represents a landmark achievement for all of the project stakeholders as well as the U.S. shipbuilding industry," Jamie Smith, ABS Americas Division President, said.
"The first-of-its-kind in over three decades, the Harvest will help reshape the U.S. fleet and support safer trading in U.S. waters."