China Icebreaker Xuelong 2 Coatings is from Dutch AkzoNobel
Views: 4 Author: UC Marine China Publish Time: 03-09-2019 Origin: www.ucmarine.com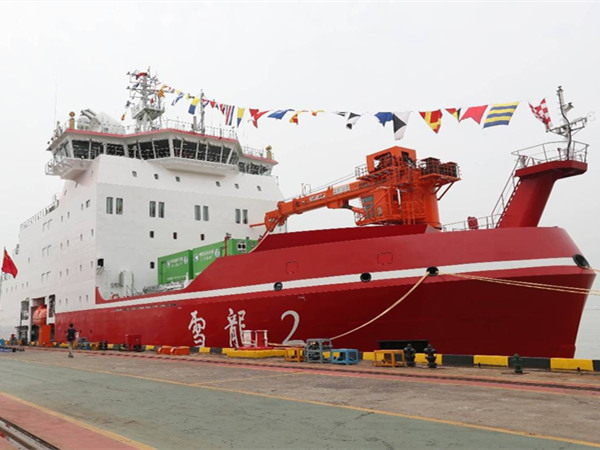 China Icebreaker Xuelong 2 Coatings is from Dutch AkzoNobel
The Xue Long 2 is expected to improve China's ability to conduct inspections in polar areas. It has greater structural strength than what was previously the country's sole icebreaker Xue Long (which translates as Snow Dragon), and is also equipped with two-way icebreaking ability.
In addition, it has been fitted out with more than 7,000 "intelligent" sensory points, which can collect friction data and other information to provide a reference for designs and the manufacture of new ships in the future. UC Marine can provide lifesaving equipment for Icebreaker, such as life boats, life rafts, life jackets, etc.
Dutch multinational company AkzoNobel's coatings solution selected by Polar Research Institute of China to protect its first domestically built polar icebreaker, Xue Long 2 from harsh Arctic and Antarctic condition.
Purpose-built to cope with thick ice sheets and the extreme challenges of polar exploration, the 12,366 ton research vessel is coated with Intershield 163 Inerta 160 from the International product range.
The tried and tested abrasion resistant system has a proven 47-year track record of performing in temperatures as low as -50°C and has already been used on more than 1,600 ships and icebreakers around the world.
"As a pioneer in providing best-in-class marine coatings and solutions globally we're thrilled to have worked with the Polar Research Institute of China to provide coatings for the Xue Long 2," says Jean-Michel Gauthier, Managing Director of AkzoNobel's Marine and Protective Coatings business.
The company's products have been used throughout the exterior and interior of the new icebreaker. The Intershield 163 Inerta 160 system – which was specially developed for ice-going vessels – has been applied to the bottom and sides of the hull. It offers outstanding surface smoothness to maximize agility and icebreaking efficiency, as well as excellent anti-corrosion properties, high durability and strong resistance to shocks and cracking.