ABS Classes World's First VLEC Owned By India
Views: 7 Author: UC Marine Equipment Co., Ltd Publish Time: 14-11-2016 Origin: www.ucmarine.com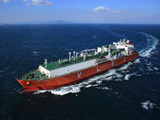 ABS Classes World's First VLEC Owned By India
Classification society American Bureau of Shipping (ABS) has classed the recently delivered Ethane Crystal, the world's first Very Large Ethane Carrier (VLEC) owned by Mumbai-based Reliance Industries Limited (Reliance).
The Ethane Crystal was delivered to Japanese shipping company Mitsui O.S.K. Lines (MOL) from South Korean shipbuilder Samsung Heavy Industries (SHI) on November 9, 2016.
The 57,494 dwt Ethane Crystal is the first in a series of six VLECs ordered by Reliance from SHI in July 2014. On behalf of Reliance, MOL will operate and manage the six ships.
The classification society said that the Ethane Crystal is the first of the six VLECs to be delivered with ABS Class through 2017.
The liquefied gas carrier is able to carry cargoes such as ethane and liquefied petroleum gas (LPG).
With an 87,000 cbm cargo carrying capacity, the vessel is the first of its kind to be constructed with a specially designed GTT Mark III membrane cargo containment system.
ABS said the vessel represents a significant step up from the largest ethane carriers delivered to date – the 37,000 cbm ABS-classed Navigator Aurora and Navigator Eclipse.
"ABS is proud to have been chosen to class this vessel and to be included as a trusted technical advisor, working alongside the owners, shipyard, designer and port and flag state teams to advance safety throughout the development of the world's largest, purpose-built ethane carrier," Christopher J. Wiernicki, ABS Chairman, President and CEO, said.
Demand for this vessel and others currently on order is driven by the surplus of ethane produced as a byproduct of shale oil and gas in North America, according to ABS.
The Ethane Crystal is intended for trade routes between North America and India, carrying ethane that will be used as feedstock for petrochemical production.
News content and pictures from:worldmaritimenews.com