APM Terminals for Better Suppy Chain in Mexico
Views: 6 Author: UC Marine Equipment Co., Ltd Publish Time: 24-03-2018 Origin: www.ucmarine.com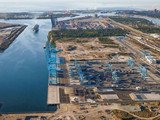 APM Terminals for Better Suppy Chain in Mexico
APM Terminals celebrates its first year of working with customers in Mexico this month. With advanced technology and sustainable solutions, Lázaro Cárdenas is the country's first semi-automated terminal designed to make Mexican supply chains more efficient, reliable and sustainable.
APM Terminals Lázaro Cárdenas combines human flexibility with technology to improve predictability, transparency, and reliability as well as maximum security for its employees and supply chain partners.
Data is, for example, collected from equipment like cranes and shuttles, to help the onsite maintenance team analyse their operating condition. Real-time, online supervision supports proactive maintenance, which is more cost-effective than scheduled maintenance. Data is used to provide historical comparison, operation trend displays, condition reports and energy usage reports, all of which can be used to optimize performance and increases asset availability.
This sophisticated process is steered from the control room, where remote operators manoeuvre the STS (ship-to-shore) cranes that unload and reload vessels. Full video camera coverage provides - from this safe vantage point - a multi-angle perspective of the container lifting and moving process.
Sensors assist the operator with trajectory prediction, alignment and stacking, as well as pendulum control. These tools help prevent accidents, increases productivity and reduces damage.
Optical character recognition identifies the container and allows both the operator and customers to track its progress all the way through the terminal.
APM Terminals Lázaro Cárdenas covers 49 hectares, has a 750-meter-long deep-sea berth with a draft of 16.5 meters. Its five railroad tracks form part of the Kansas City Southern railroad network, and offers twice daily services to Mexico City. Its strategic location connects Asia with the west coast of Mexico and provides the shortest distance and lowest intermodal cost to Mexico City, which accounts for 42% of the total Pacific Coast market.
Links with APM Terminals Intermodal facility in Cuautitlán provide a rapid and efficient transport corridor to reach Mexico's main markets. APM Terminals Mexico City operates daily trains from all main ports in the country. The intermodal facility has been awarded 'Best Intermodal Facility' by one of the world's largest retailers for the last two years.
The APM Terminals Lázaro Cárdenas commercial team works closely with customers throughout Mexico, including importers of foodstuffs, electronics and auto parts and exporters of metals, consumer goods, auto parts and foodstuffs.
If you are interested in marine life saving equipment, marine fire fighting equipment, marine anchor windlass, marine winch, marine anchor and anchor chain, please contact UC Marine China for more details.