Alang Yards Receive Ultimatum to Improve Facilities
Views: 5 Author: UC Marine Equipment Co., Ltd Publish Time: 01-08-2017 Origin: www.ucmarine.com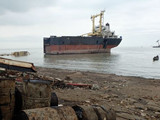 Alang Yards Receive Ultimatum to Improve Facilities
India's Gujarat Maritime Board (GMB) has issued an ultimatum to Alang yards that have yet to modernize and improve their facilities under the guidelines laid out in the Hong Kong Convention (HKC) for ship recycling.
"This is certainly a bold and forward thinking maneuver by the Indian government that should be applauded as it seeks to raise local standards after the great strides that have already been made over these past few years, with over 38 local yards already bearing HKC class approvals from the likes of NK, Rina and IRS," GMS, a cash buyer of ships for recycling, said in its weekly report.
GMS said the upward market trajectory continued on this week with some "spectacularly priced" deals being concluded by cash buyers and willing recyclers. At present, there is no telling where the current rally may end, according to GMS.
However, the ongoing shortage of tonnage that is increasingly aggravating a firming demand is likely a big part of the reason that the industry has witnessed "a flurry of excellently priced deals" last week, GMS added.
The ascending local steel plate prices have not been entirely expected. However, following the onset of this year's incessant monsoon rains that have engulfed much of the sub-continent and subsequently resulted in a shortage of local product being available to the domestic steel mills has driven prices for ships at the ongoing rate.
The principally buoyant Bangladeshi market is still enjoying the positive fallout from the reversal of their budget from some weeks ago and the buying has ramped back into gear ever since and after a tentative and idle last few months.
In Pakistan, there was a lot of confusion as Prime Minister Nawaz Sharif was forced to resign following a decision by the country's Supreme Court, reportedly due to corruption charges. This could not overshadow a ship-recycling sector that has been rapidly gathering steam over the recent week. However, in times of turmoil, commodity markets often push on and the present times in Pakistan seem no different, GMS concluded.
UC marine provide you with world maritime news.