BC Ferries' 2nd Salish Ferry Sets Sail for British Columbia
Views: 11 Author: UC Marine Equipment Co., Ltd Publish Time: 16-02-2017 Origin: www.ucmarine.com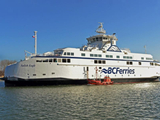 BC Ferries' 2nd Salish Ferry Sets Sail for British Columbia
The second of three new liquefied natural gas (LNG) -powered Salish Class vessels, ordered by Canadian ferry owner and operator BC Ferries, departed Gdansk, Poland on February 11 bound for its new home in British Columbia.
Currently sailing the 10,440-nautical-mile journey, Salish Eagle is expected to arrive at its destination in April for crew training and familiarization.
The dual-fuel ship is scheduled to start service in the Southern Gulf Islands in the summer of 2017.
The Transatlantic voyage will take around 45 to 55 days, depending on weather, and including stops for refuelling in Santa Cruz, Canary Islands and Panama City, Panama, after transiting the Panama Canal and sailing up the west coast of North America to British Columbia.
"We are looking forward to introducing all three new Salish Class vessels into service this year, which will serve British Columbians for decades to come," Mike Corrigan, BC Ferries' President and CEO, said.
"We plan to operate these ships on natural gas, which will improve our environmental footprint and reduce our operating costs," Corrigan added.
The company will take final acceptance and ownership of Salish Eagle upon final inspection once the vessel arrives at its destination.
BC Ferries' first vessel from the batch, the Salish Orca, arrived in British Columbia on January 11, 2017, after a 50-day journey from Gdansk, Poland. The new ship will start service on the Comox-Powell River route in the spring of 2017.
The 107-meter Salish Class ships will carry 145 vehicles and up to 600 passengers and crew. With a gross tonnage of 8,728 tons each, the vessels feature two car decks and have a service speed of 15.5 knots.
News content and pictures from:worldmaritimenews.com