Bahri Adds 300,000-dwt VLCC to Its Fleet
Views: 12 Author: UC Marine Equipment Co., Ltd Publish Time: 19-07-2017 Origin: www.ucmarine.com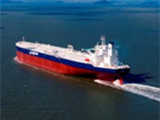 Bahri Adds 300,000-dwt VLCC to Its Fleet
National Shipping Company of Saudi Arabia (Bahri) has further expanded its fleet with the addition of a 300,000-dwt very large crude carriers (VLCC) Aslaf.
Bahri took delivery of the new vessel at HHI's Mokpo shipyard in South Jeolla Province, South Korea, bringing the number of VLCCs in its fleet to 39 while increasing its total fleet size to 86.
Built by Hyundai Heavy Industries (HHI) in South Korea, the new ship features a length of 330 meters and a width of 60 meters.
"This marks yet another milestone for Bahri and reinforces our preeminent position in the global oil transportation industry," Ali Al-Harbi, Acting CEO of Bahri, said.
Aslaf is the third VLCC to join Bahri's fleet this year following the delivery of Amjad in February and Maharah in June. This addition is part of the company's plan to continue improving its operational excellence and commercial flexibility.
In a separate announcement, Saudi Arabia's shipping firm said that it signed an agreement with France-based Bollore Logistics Sas to establish a joint venture in Riyadh, Kingdom of Saudi Arabia, with share capital of SAR 15 million (USD 3.9 million).
The parties would increase the share capital to be SAR 30 million in three months from the date of incorporating the joint venture, which will be engaged in total logistics services including brokerage in freight forwarding and transportation.
Bahri will own 60% of the shareholding in the joint venture while Bollore will own the remaining 40%. The companies expect to finalize the establishment of the joint venture by the third quarter of 2017.