British Squared MK Unveils Two New Superyacht Concepts
Views: 9 Author: UC Marine Equipment Co., Ltd Publish Time: 30-10-2017 Origin: www.ucmarine.com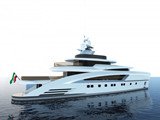 British Squared MK Unveils Two New Superyacht Concepts
British design studio Squared MK, founded in 2015, has presented two new superyacht concepts, unveiled at the Monaco Yacht Show 2017 and on show at the Fort Lauderdale International Boat Show this week. The studio's approach to conceptual design is one that is based on in-depth research and the work of the world's leading shipyards, which is a large part of this new studio's ethos.
Squared MK has a multifaceted approach to the market – the team is not focused on superyacht exteriors alone, but is fully dedicated to interior design and luxury product design. Since its conception, the studio has worked with a number of shipyards in the UK and Europe, in order to develop unique design solutions and approaches.
The newest of the two concepts off the boards of the studio is 49.6m motoryacht FC 50, ('FC' stands for Fast Commuter). The new design, which is being officially unveiled next week at the Fort Lauderdale International Boat Show, is inspired by traditional values, combined with modern technology.
"Our idea and project metaphor was inspired by the commuter boats used from the bankers and businessmen that made history back in the 1930s," says studio director Stefano Andreas Koukas. "Through combining some aspects of modern yachts and architectural style from this period, we have created something unique." Koukas explains that the project is intended for a versatile owner, who doesn't have too much spare time to spend aboard, and thus the yacht has been designed to be available for long weekends to cover short distances and enter shallow waters.
Furthermore, the studio unveiled a fast displacement motoryacht at the 2017 Monaco Yacht Show, with an LOA of 75m, named Nyx. "Nyx was designed with particular attention to aesthetics and proportions," says Koukas. "Our goal was to design a challenging vessel with a strong character, for an active client with a passion for style and a dynamic and charming lifestyle."
Notoriously, the superyacht design market is not an easy place to enter, primarily due to the vast amount of competition, but as Koukas explains, "there are no barriers, only challenges."
"The superyacht industry is small, and we still have to evolve significantly in order to compare to similar industry's," he continues. "I believe the biggest challenge of our industry is how to increase its visibility and create more opportunities for new clients. I hope that our generation will be more open minded about starting new collaborations, and empower each other rather than keeping the doors closed and be afraid of what's next."
Having been based on extensive research, the two new concepts released by the studio are certainly open minded, however aren't overly futuristic or unfeasible projects, which has certainly become rare in superyacht design spheres.
On Thursday the 16th November, the superyacht design day will take place at The Superyacht Forum held in Amsterdam from the 13th – 16th November