CSES to Acquire COSCO Tianjin Shipyard
Views: 48 Author: UC Marine China Publish Time: 08-12-2015 Origin: www.ucmarine.com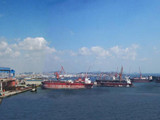 CSES to Acquire COSCO Tianjin Shipyard
COSCO Shipyard Engineering Service (Dalian) (CSES), a 75%-held subsidiary of COSCO Shipyard Group (CSG), entered into a conditional sale and purchase agreements on 1 December 2015 to acquire the entire registered capital of COSCO (Tianjin) Shipyard Co., Ltd.
Pursuant to the sale and purchase agreements, CSES will acquire 90% interest in COSCO Tianjin from CSG and the remaining 10% interest from Tianjin Ocean Shipping Co. The purchase consideration for CSES' acquisition of CSG's 90% interest in COSCO Tianjin will be met by the issuance of additional equity to CSG. Following the issuance of the additional equity, CSG's interest in CSES will increase from 75% to 86.5%.
CSES' acquisition of Tianjin Ocean's 10% interest in COSCO Tianjin will be carried out in cash.
"The purchase consideration for the acquisition was determined on a willing-buyer willing-seller basis after taking into account the net tangible asset value of the registered capital to be acquired as well as the performance of the business of COSCO Tianjin over the past years," COSCO said in a release.
COSCO added that the above transaction is not expected to have a material impact on its earnings per share for the financial year ending 31 December 2015.
COSCO Tianjin specializes in voyage repair, automatic repair and ship spare parts supply (marine anchor windlass, marine winch, marine capstan, steering gear, etc marine equipment).
News content and pictures from:worldmaritimenews.com