Celebrity Cruises Presents New Expedition Cruise Ship
Views: 10 Author: UC Marine Equipment Co., Ltd Publish Time: 21-11-2017 Origin: www.ucmarine.com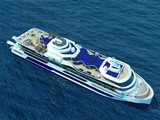 Celebrity Cruises Presents New Expedition Cruise Ship
Celebrity Cruises, a part of the Miami-based Royal Caribbean Cruises, has unveiled its latest expedition cruise vessel, designed for the Galapagos Islands.
The 100-guest Celebrity Flora, which will be built at the Lobith yard under yard number 488, will offer seamless sea-to-shore transportation, and includes anchorless technology that maintains the ship's position while protecting the sea floor.
"Celebrity Flora marks another example of our revolutionary ship design by allowing the destination and its environment to influence every decision we've made," Lisa Lutoff-Perlo, President and CEO, Celebrity Cruises, said.
"From the luxurious all-suite accommodations to industry-first, eco-friendly innovations, we created a ship that brings a new level of luxury, sustainability and natural exploration to the region," Lutoff-Perlo added.
Celebrity Flora is one of the most energy-efficient ships in its class, with a 15 percent reduction of fuel consumption and equivalently fewer air emissions, due to the introduction of an advanced propulsion system, hull configuration and specially designed diesel engines. diesel engines for more information about at ucmarine.com.
Celebrity Flora will sail from Baltra year-round, making its first sailing on May 26, 2019.