China Zhonghua Shipyard to Build World's Biggest LNG Tanker
Views: 70 Author: UC Marine China Publish Time: 08-04-2019 Origin: www.ucmarine.com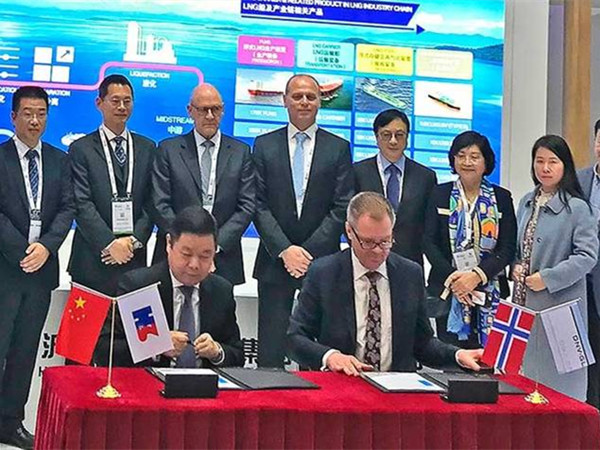 China Zhonghua Shipyard to Build World's Biggest LNG Tanker
China's Hudong-Zhonghua Shipbuilding company and and classification society DNV GL have signed an agreement on the joint development of the world's biggest liquefied natural gas (LNG) tanker.
Hudong-Zhonghua Shipyard and Classification society DNV GL have signed an agreement for a joint development project (JDP) for a new 270,000 m3 LNG carrier – the largest ever ship of this type, said a press release.
The agreements were signed in Shanghai between Hudong-Zhonghua General Manager Chen Jun and DNV GL's Regional Manager for Greater China, Norbert Kray.
In recent years, China's LNG imports have been growing rapidly. China imported 37.8 million tons of LNG in 2017 and this has rapidly climbed to more than 54 million tons in 2018, an increase of 42%.
In light of the country's "protecting blue sky" campaign, it is forecasted that the demand for LNG in China will continue to grow at a high level, and it is expected to exceed 100 million tons by 2030. Shanghai alone imported a record 600 million m3 of LNG in January 2019, requiring six 170k vessels.
The transport of large amounts, from diverse suppliers, will require new vessels and greater efficiencies. To achieve this, the new JDP will see Hudong-Zhonghua Shipyard and DNV GL cooperate to bring their expertise and experience in research and development, engineering, classification, and construction, to develop a modern ultra large LNG carrier with a capacity of 270,000 m3.
A vessel of this size could transport enough LNG to provide gas for 4.7 million Shanghai homes for a month, 25-30% more efficiently than a 170,000 m3 vessel. In addition, a single 250k vessel would increase terminal capacity by 50% without expanding the size of the terminal.
"LNG is an energy source that is becoming more important as we look to improve air quality and lower carbon emissions," said Norbert Kray, DNV GL Regional Manager for Greater China.
"DNV GL has been one of the leaders on maritime LNG technology for many years and we are very proud that Hudong-Zhonghua Shipyard has chosen us to cooperate with them on this exciting and innovative project. We look forward to deepening our partnership as we work to enable a design that is cost-efficient, environmentally friendly, and above all safe," Norbert added.