China to Build Four More Vessels for Dutch Thun Tankers
Views: 9 Author: UC Marine Equipment Co., Ltd Publish Time: 24-04-2017 Origin: www.ucmarine.com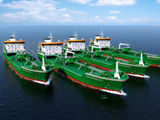 China to Build Four More Vessels for Dutch Thun Tankers
Dutch coastal shipping company Thun Tankers, part of the Gothia Tanker Alliance, has contracted four 17,500 dwt IMO II product/chemical tankers to be built at China's Avic Dingheng Shipbuilding.
The vessels are expected to be delivered between April 2019 and January 2020.
Furetank Rederi AB, Thun Tankers and Rederi AB Älvtank have previously ordered a total of six 16,300 dwt high quality intermediate tankers with LNG propulsion. These vessels, that are currently under construction, are being built at the same yard as the now contracted ships.
"Thun Tankers' new vessels will further improve the Gothia Tanker Alliance customer offering as well as our position as a provider of safe and efficient refined products transportation," Lars Höglund, Managing director at Furetank, said.
Furetank Chartering, responsible for the intermediate size segment in the Gothia Tanker Alliance, will commercially manage the vessels.
With this new contracting, the Erik Thun Group has a total of eleven newbuildings on order. In addition to five intermediate tankers, Thun has contracted four 8,000 dwt coastal tankers at Sheepswerf Ferus Smit in the Netherlands with delivery in 2018-2021.
Thun are also building two ice classed dry cargo ships at the same yard with delivery later this year.
News content and pictures from:worldmaritimenews.com