Chinese COSCO Zhoushan Hands Over Front Jaguar to Frontline
Views: 9 Author: UC Marine China Publish Time: 23-06-2016 Origin: www.ucmarine.com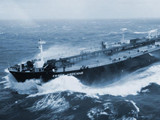 Chinese COSCO Zhoushan Hands Over Front Jaguar to Frontline
Chinese COSCO (Zhoushan) Shipyard, a subsidiary of COSCO Shipyard Group, has delivered a 111,000 dwt oil tanker to John Fredriksen-controlled oil tanker shipping company Frontline Ltd.
Featuring a length of 252 meters and a width of 44 meters, the new Marshall Islands-flagged vessel was named Front Jaguar.
The LR2 tanker joins the company's fleet a week after Frontline decided to exit the medium range tanker segment.
Namely, the company sold six of its medium range tankers for a price of USD 172.5 million to New York-listed Ardmore Shipping Corporation (Ardmore).
Scheduled to be delivered to their new owner during September and October 2016, the vessels have an average age of 2.4 years.
Frontline's crude oil tanker fleet will now be comprised of VLCCs, Suezmax tankers and LR2 tankers.
The company has a fleet of 79 vessels, including newbuildings, with an aggregate capacity of some 15.3 million dwt.
News content and pictures from:worldmaritimenews.com