Construction Starts on New West Port in Kalundborg
Views: 4 Author: UC Marine Equipment Co., Ltd Publish Time: 14-10-2017 Origin: www.ucmarine.com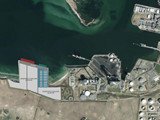 Construction Starts on New West Port in Kalundborg
The construction of the New West Port in Kalundborg in Denmark has officially begun with the ceremonial throwing of a gold-plated stone into Kalundborg Fjord at the place where the new port area is scheduled to be completed in a couple of years.
The gold-plated stone was thrown over the railing by mayor Martin Damm in partnership with port director Bent Rasmussen and chairman of the port of Kalundborg, Jakob Beck Jensen.
New West Port will initially encompass 330,000 square meters, which will contain, a container terminal and a 500-meter quay and will have a water depth of 15 meters.
As disclosed, the facilities will have favorable conditions for port users and cruise lines.
"We have now placed the first stone in the necessary foundation for the port and the surrounding business cluster which will actively contribute to business development, employment in the area and the cruise development. If Kalundborg is to be attractive for port-using businesses and the larger cruise ships of the future we need the new space," says Jakob Beck Jensen, chairman of the Port of Kalundborg.
The construction of the new port area is divided into two contracts: the land-based and the dredging at sea stage. The Port of Kalundborg has chosen NCC Industry A/S (Hercules Fundering) and Wasa Dredging Ltd for the job and has already signed the relevant contracts with the two.
"Ten years of planning has gone into New West Port and now the construction has finally begun," says Bent Rasmussen, director of Kalundborg Port.
The Port of Kalundborg expects the port expansion to be completed in February 2019.