Copenhagen-based Thorco Shipping Buys Five Tweendeckers
Views: 11 Author: UC Marine China Publish Time: 30-11-2015 Origin: www.ucmarine.com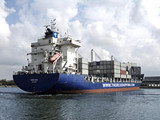 Copenhagen-based Thorco Shipping Buys Five Tweendeckers
Copenhagen-based shipping company Thorco Shipping has acquired five tweendeckers to replace some of the older tonnage in its fleet.
Thorco will later this year replace four green type vessels which have turned 15 and 16 years with the new vessels, the first ones being scheduled for delivery mid-December.
The five vessels, from 2010, 2011 and 2012, respectively, all in the 15,000 – 20,000 DWAT range, will form the new Thorco R-class.
Thorco did not disclose the value of the deal nor the owner of the vessels.
"The new vessels are of a well-known design to Thorco, have high specifications, are modern and more fuel efficient, which all together meet the increasing demands of the industry and optimize our performance and efficiency to serve our clients in the best way," Thomas Mikkelsen, CEO and partner in Thorco, said.
Thorco's previous acquisition was a year ago when it bought two 20,000 DWAT vessels, Isadora and Isabella, from Maersk Line.
Additionally, the company has an ongoing newbuildings program in Japan with ten L-class vessels.
News content and pictures from:worldmaritimenews.com