Cress Systems Helps Container Terminals
Views: 164 Author: UC Marine China Publish Time: 22-05-2018 Origin: www.ucmarine.com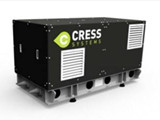 Cress Systems Helps Container Terminals
New technology allows container ports and terminals to capture, store and reuse energy from container yard handling equipment to reduce fuel cost and emissions and better manage peak electricity demands.
Following a successful proof of concept trial at the UK Port of Felixstowe, Cress Systems is pleased to announce the commercial release of its ProwESS energy capture, storage and reuse system for container terminal yard handling equipment. The first version of the system has been designed for rubber-tyred gantry cranes (RTGs), the global workhorse of yard operations, with a second version under development for straddle carriers.
Originally developed in the laboratories of energy giant British Petroleum (BP), with further research and development input from the UK University of Reading, the Cress solution recycles kinetic energy from container handling equipment that is otherwise wasted. Neither terminal operations nor equipment driving and lifting activities are affected. The flywheel-based system runs in parallel with normal RTG operations, with no mechanical connection required, providing stored energy when needed while leaving the RTG free to work in usual fashion.
"One of the key findings out of the extensive Felixstowe pilot in 2016/2017 was the ability of the CRESS energy storage system to manage and control the release of stored energy as and when required to achieve optimal results, including the ability to reduce the peak demand on the RTG generator set," says Cress CEO Richard Bradshaw. "After conducting the field tests on different container and spreader weight combinations ranging from an empty 7 tonnes spreader to a 28 tonne loaded containers, energy savings ranged from 12.91-26.3% depending on the sequence of moves."
For European terminal operators using traditional diesel-powered equipment, these energy savings translate to a 3-4 year return on investment (ROI) per RTG, depending on local fuel prices, throughput and mode of operations. Furthermore, with its energy peak reduction capabilities, the technology also helps terminals better manage the fast-growing trend to more electrified operations, explains Bradshaw.
"Electrification of ports is placing new demands on electricity grids globally and grids are also changing with more intermittent renewable sources and increasing demands from other electricity users," he says. "As terminals convert more handling equipment from diesel to electric operations and face new demands such as providing electric shore power for ships, this is placing pressure on the main grid supply and creating peaks in demand that could lead to excess charges and potentially exceed supply. But new technologies such as ProwESS are now arising globally for major industrial consumers to secure cost savings by reducing their peak loads on the electrical network."
"The improvements that we have introduced to the system following the Felixstowe pilot have given us the confidence to move into mainstream production for the next customer orders in container terminals" adds Bradshaw. The company has also strengthened its global team with the appointment this April of industry veteran Ziad Banna. With more than 25 years' experience in digital enterprise transformation and technology solutions for ports and other asset intensive industries, Banna joins as Vice President of Global Sales to develop and execute the right strategy to bring this innovative solution to market.
"With payback of 3-4 years on RTGs versus an expected equipment lifecycle of 25+ years, and minimal maintenance, the savings from energy storage technology stack up across reduced fuel bills, less CO2 emissions and ability to normalise energy peak consumption," says Banna.