DNV GL Gives Nod to China Dalian LNG-Fuelled VLCC Design
Views: 9 Author: UC Marine China Publish Time: 02-12-2015 Origin: www.ucmarine.com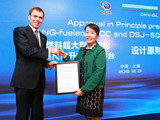 DNV GL Gives Nod to China Dalian LNG-Fuelled VLCC Design
China's Dalian Shipbuilding Industry Company Limited (DSIC) has received an Approval in Principle (AIP) from international classification society DNV GL for its new LNG-fuelled very large crude carrier (VLCC) design at the first day of the Asian maritime event Marintec China 2016.
The new, innovative design has been found to comply with the Gas Fuelled notation as given in the DNV GL rules for the classification of ships and the recently adopted IGF Code.
"This AIP is another step toward the more widespread adoption of LNG as a fuel for shipping," says Torgeir Sterri, DNV GL Vice President and Regional Manager in Greater China.
"The emissions and efficiency benefits of LNG mean it is almost sure to become an important part of the fuel mix over the next few years. We have seen its adoption in many sectors already and now with this AIP, the world's first for a VLCC, this major shipping sector could see its first LNG-fuelled vessel soon," he added.
DNV GL said that the shipping industry is being challenged to reduce its emissions of SOx, NOx, CO2 and particulates, both by current and incoming regulations and society as a whole. As a result, shipowners and operators are increasingly looking into the use of alternative fuels to ensure compliance for their fleet, now and in the future.
DSIC's new LNG-fuelled VLCC design uses type C fuel tanks located on the open deck which minimizes the impact on the overall layout and results in cargo capacity being unchanged from the conventional design. The LNG fuel tanks give the vessel the capability of performing a round trip from the Middle East to the US without refuelling, DNV GL adds.
"In 2010, DNV GL developed the LNG-fuelled VLCC concept Triality," said Deng Ling, DNV GL project manager.
"With DSIC's design and the Approval in Principle we have now seen the next step, a version which can now be put into the market. We are very proud to have been selected to work with DSIC on this project and look forward to seeing this eco-friendly design being welcomed by the industry."
News content and pictures from:worldmaritimenews.com