Danish Shipping to Install Exhaust Gas Scrubbers
Views: 32 Author: UC Marine China Publish Time: 28-06-2019 Origin: www.ucmarine.com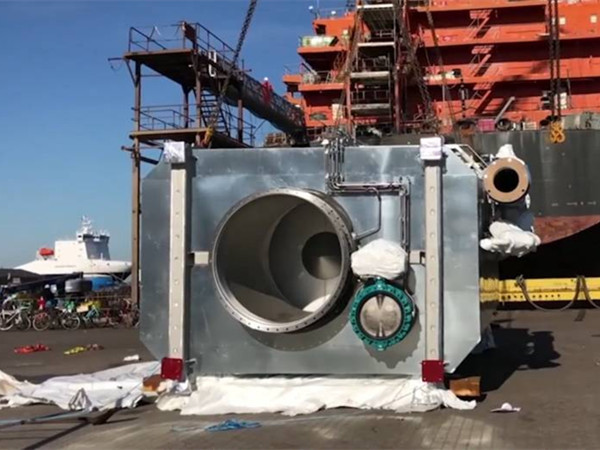 Danish Shipping to Install Exhaust Gas Scrubbers
Denmark-based shipping companies prefer to install exhaust gas purification systems, the so-called scrubbers, on their ships.
"The scrubbers clean the exhaust smoke from the engines and thereby remove Sulphur and other particles which enable the ships to meet new international requirements," says Danish Shipping, which represents the danish shipping industry.
With its 183.2-meter long hull, Torm Laura takes up a lot of space at the FAYARD yard on Funen, Denmark. Every day, the ship transports everything from oil to chemicals on the seven oceans, but for the last two weeks the ship has been docking at a shipyard in Munkebo to have a scrubber installed to make the ship ready to be in line with the stricter Sulphur regulation that will be effective on 1 January 2020.
"Scrubbers are an effective solution that we have chosen to invest in for approx. half of our ships," says Jesper S. Jensen, Head of Technical Division at Torm, who took the initiative to today's visit.
As from 1 January 2020, the ships are not allowed to emit more than 0.50 percent Sulphur against the current limit of 3.50 percent. This leaves the shipping companies with two options. They can either choose to buy a more expensive low-Sulphur fuel oil, or they can choose to continue using the usual fuels and allow a scrubber to clean the exhaust.
"We have for several years been preparing for how to comply with the coming global Sulphur limit in 2020, and in our opinion, scrubbers are an advantageous and not least environmentally correct way of complying with the coming regulations," says Jesper S. Jensen, Head of Technical Division at Torm.
TORM Laura is far from being the only ship having an exhaust gas purification system installed. By the end of 2019, according to the classification society DNV GL, 2,950 vessels are expected to have installed scrubbers or waiting to have them installed. By 2023, the number is expected to have risen to 3500. Marine brass switch for exhaust gas scrubbers electrical connection accessories from china manufacturer uc marine.
Danish Shipping, for whom the transition to the global Sulphur limit has been a priority focus area for the last three years, is pleased that the members are getting ready for the new regulation.
"It is a major focus area for Danish Shipping to reduce air pollution from our vessels. Therefore, our members have for many years invested enormous resources in being ready to comply with the Sulphur limit, which comes into force in 2020", says Asbjørn Overgaard Christiansen, Acting Director at Danish Shipping.