Deltamarin Inks Deals to Support Construction of Viking Line's LNG Ferry
Views: 11 Author: UC Marine Equipment Co., Ltd Publish Time: 06-07-2017 Origin: www.ucmarine.com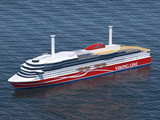 Deltamarin Inks Deals to Support Construction of Viking Line's LNG Ferry
Finnish ship designer Deltamarin has signed contracts with China-based Xiamen Shipbuilding Industry (XSI) for engineering and construction support services for the Viking Line's LNG-fueled RoPax newbuilding.
As informed, the contracts cover basic and detail design as well as comprehensive project management support and supervision services to the shipyard during vessel construction.
Deltamarin said it has developed the new vessel concept together with Viking Line and delivered assistance in the tender and contract phases for the owner.
"We are very happy about the constructive cooperation with Viking Line. From a naval architectural point of view, they presented us with every concept developer's dream challenge: to come up with a concept that is even more energy efficient in relation to cargo capacity than their MS Viking Grace, one of the most energy-efficient and sophisticated ferries on the market," Nina Savijoki, Deltamarin's Sales Manager, commented.
"We have received good support from Deltamarin during the concept development and the worldwide yard selection phase, and look forward to continuing the work together with them and Xiamen Shipyard during the vessel construction," Kari Granberg, NB Manager at Viking Line, noted.
Special focus while developing the concept was put on hull form development, weight control, energy efficiency and improvement of the general arrangement. Deltamarin said it succeeded in making the new concept 10% more energy efficient than Viking Grace.
The value of Deltamarin's contracts with XSI in total is over EUR 11 million (USD 12.5 million). The engineering and pre-construction project management support will be carried out mainly at Deltamarin's offices in Finland over an estimated period of twelve months.
The supervision and other construction support services will be carried out until planned delivery of the vessel in 2020, according to Deltamarin.
The new ship will be able to accommodate 2,800 people. In addition to running on LNG, the vessel will have two 24 meter-high rotor sails installed.
It will serve the Finland – Sweden route, connecting Turku, Åland Islands, and Stockholm as part of the European Union's Motorways of the Seas project.
News content and pictures from:worldmaritimenews.com