Desgagnés Christens World's First Dual-Fuel Polar-Class Chemical Oil Tanker
Views: 2 Author: UC Marine Equipment Co., Ltd Publish Time: 18-04-2018 Origin: www.ucmarine.com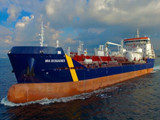 Desgagnés Christens World's First Dual-Fuel Polar-Class Chemical Oil Tanker
Canadian shipping company Desgagnés christened and launched on April 17 the M/T Mia Desgagnés, the world's first polar-class dual-fuel oil/chemical tanker.
"Desgagnés is very proud to have achieved another world first in only a few short months," Louis-Marie Beaulieu, the company's president and CEO, stated, recalling that last May, Desgagnés named the M/T Damia Desgagnés, the very first dual-fuel asphalt-bitumen-chemical tanker.
The 135-meter-long Mia Desgagnés is the second in a series of four new product carriers ordered by the company at Besiktas shipyard in Turkey.
As informed, the vessel represents an investment of over CAD 50 million, including nearly CAD 9 million for the addition of dual-fuel/LNG motorization.
"This is a very significant investment in line with our commitment to reduce our environmental footprint," Beaulieu added, thanking the Quebec government for its financial contribution of CAD 700,000 under its program to improve transportation efficiency and reduce greenhouse gas emissions (PETMAF).
The Mia Desgagnés has several sustainable development certifications, including "CLEANSHIPSUPER" and "GREEN PASSPORT". The tanker is able to run on three different types of fuel, including liquefied natural gas (LNG).
With a deadweight capacity of nearly 15,000 tons and tanks with a capacity exceeding 17,000 cubic meters, the Mia Desgagnés will be transporting refined petroleum products or chemicals.
The ship, with its double hull and Polar 7 certification, can navigate in ice-laden waters. It is equipped with a variable pitch propeller as well as bow and stern thrusters. Its generators' power output of over 3 megawatts allows the vessel, through its generator/motor integrated in the propulsion shaft, to reach a cruising speed of up to 7 knots without using the main engine.