Eimskip And Royal Arctic Line Enter Capacity Sharing Deal
Views: 11 Author: UC Marine China Publish Time: 24-05-2016 Origin: www.ucmarine.com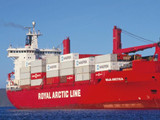 Eimskip And Royal Arctic Line Enter Capacity Sharing Deal
Iceland's Eimskip and Greenland-based Royal Arctic Line signed a letter of intent to connect Greenland into Eimskip's international sailing system through a capacity sharing agreement involving larger vessels.
Under the agreement, the companies plan to invest in and operate three approximately 2,000 TEU container vessels which will be designed and built for the special weather conditions in the Arctic and the North Atlantic and in accordance with the Polar Code.
The new ships, which are expected to be built in two to three years, would be more fuel efficient and therefore more environmentally friendly, Royal Arctic Line said.
"The new vessels will connect the transport systems of Greenland and Iceland with Scandinavia, Europe and North America," the companies said.
"Planned port developments in Nuuk, Reykjavík and Tórshavn are enabling larger vessel sizes in the market area. Pooling Eimskip's volumes with Royal Arctic Line by using fewer and larger vessels facilitates efficiency gains," Gylfi Sigfússon, President and CEO of Eimskip, said.
The final agreement would be subject to approval from the companies' owners, the Icelandic and the EU Competition Authority.
News content and pictures from:worldmaritimenews.com