Fincantieri And HRDD to Jointly Repair Cruise Ships in China
Views: 18 Author: UC Marine China Publish Time: 04-03-2016 Origin: www.ucmarine.com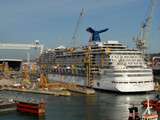 Fincantieri And HRDD to Jointly Repair Cruise Ships in China
Italian shipbuilder Fincantieri and Shanghai-based shipyard Huarun Dadong Dockyard (HRDD) have signed a cooperation agreement in the field of ship repair and conversions aimed at serving the cruise ships based in China.
The deal, which includes the development of technical skills, project management, and logistics procedures, will support the emerging Chinese cruise sector and foreign cruise companies which will operate in this market.
Fincantieri said that the Chinese Ministry of Transport (MOT) expects China to become the second largest global cruise market after the U.S. in the next several years based on economic growth, increased spending power of Chinese consumers and internal demand in this sector.
China could see 4.5 million cruise passengers by 2020, according to the MOT, and exceed 10 million within 20 years. This expansion could require more than 100 passenger ships.
Between 2013 and 2015 the number of ships deployed in Asia was increased by 10%, reaching 52 units of 26 brands, with an offer of 1,065 cruises.
News content and pictures from:worldmaritimenews.com