Fincantieri Inks Heads of Terms for STX France with French State
Views: 11 Author: UC Marine China Publish Time: 13-04-2017 Origin: www.ucmarine.com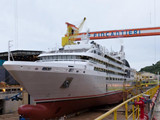 Fincantieri Inks Heads of Terms for STX France with French State
Italian shipbuilding company Fincantieri signed on Wednesday the Heads of Terms for the acquisition of shares in STX France with the French State, represented by the Agence des Participations de l'Etat (APE).
The signing comes on the back of an agreement in principle Fincantieri reached with the French government that was announced on April 6, 2017.
"The agreement, which is a key element for the finalization of the final agreements among future shareholders, also includes the guidelines of the business plan, shared with APE, prepared by Fincantieri for STX France," the Italian company said.
Fincantieri added that it was working with the Court of Seoul in order to finalize the acquisition of STX France as soon as possible.
The company was put up for sale as part of the South Korean STX Offshore and Shipbuilding, after the financially troubled conglomerate decided to file for a court-led restructuring in May 2016. Fincantieri had been selected as the preferred bidder for the controlling stake of 66.6 % of the French-based yard, however, as unions opposed the privatization, a minority stake remained on sale.
Under the deal, Fincantieri will acquire a 48 percent stake in STX France, while France will retain its 33 percent stake in the shipyard. Fondazione CR Trieste, will support the deal as an independent investor, taking up to 7 percent stake in the yard while DCNS would hold on to the remaining 12 percent.
The Italian shipbuilder would stay a minority shareholder in the Saint-Nazaire company for at least eight years.
News content and pictures from:worldmaritimenews.com