First Cyber SAFE Certified Ships Delivered
Views: 9 Author: UC Marine Equipment Co., Ltd Publish Time: 30-05-2017 Origin: www.ucmarine.com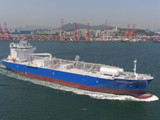 First Cyber SAFE Certified Ships Delivered
The first ships to be classed with Lloyd's Register's cyber notations have been delivered to Global United Gas Carriers in Korea.
Built by Hanjin Heavy Industries, in collaboration with Alpha Ori Technology, the ships have been awarded the notation Cyber (AL-SAFE) certifying the autonomous systems onboard as safe.
The SMARTShip technology was installed on board Global United Gas Carriers' new vessel, the Trammo Dietlin.
Lloyd's Register said that this is the first real example of the digital transformation in shipping – the ships will operate in an autonomous mode for selected functions using cutting edge digital technology. The new cyber-enabled features allow crew to operate ships more efficiently. This is also the first example of a ship certified to stream data into a big data platform.
The autonomous systems were enabled by Alpha Ori Technology with the purpose of several systems being able to operate with a level of automation onboard three vessels to varying degrees. The aim was to minimise human error and make the operation of ships systems safe and more efficient when running in autonomous mode.
Elements of the navigation, cargo and machinery systems have been certified AL2, which means that systems provide on and off-ship decision support for operators. This provides operators and shore-based support staff with instant access to operating data from these systems for monitoring and diagnostics through the cloud, with which they can make more informed decisions and respond to issues faster and more efficiently.
The Air Handling Unit has been certified AL3 which means that systems that operate autonomously, but with an active human 'in-the-loop'. The system continuously monitors operational information from fire and gas systems, cargo systems and navigational positioning systems and then uses this information to automatically adjust the unit's operating parameters to maintain a safe and comfortable environment within the accommodation space.
"From this point, the degree of autonomy on cyber-enabled ships will only grow and comprise more and more functions and reach higher and higher levels, and thanks to LR's procedures this will be achieved safely," Nick Brown, LR's Marine & Offshore Director, said.
News content and pictures from:worldmaritimenews.com