First Ship with IMO Tier III EIAPP Engines Launched
Views: 3 Author: UC Marine Equipment Co., Ltd Publish Time: 21-07-2017 Origin: www.ucmarine.com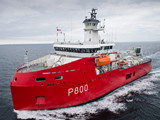 First Ship with IMO Tier III EIAPP Engines Launched
The first ship featuring International Maritime Organisation's Tier III EIAPP (Engine International Air Pollution Prevention) certified Wärtsilä diesel engines was launched on July 12.
The 72-metre polar logistics vessel L'Astrolabe is fitted with a complete Wärtsilä propulsion machinery package and Wärtsilä NOR (NOx Reducer) SCR (Selective Catalytic Reduction) exhaust gas cleaning systems for all the main engines.
Built by France-based shipbuilder PIRIOU for the French Southern and Antarctic Lands Administration, the vessel will be used to transport personnel and supplies to the Dumont d'Urville research station in Antarctica.
The L'Astrolabe will have accommodation for 60 persons, a cargo capacity of 1,400 metric tons, and is fitted with a helideck large enough to accommodate two helicopters.
The four IMO Tier III certified 8-cylinder Wärtsilä 20 diesel engines are combined with Wärtsilä NOR systems to be fully compliant with the IMO Tier III exhaust emission regulations set out in Annex VI of the MARPOL 73/78 convention. The IMO Tier III EIAPP certification was carried out according to Scheme B based on the requirements of IMO Resolution MEPC.198(62). The Tier III EIAPP certificates were issued by Bureau Veritas.
During the second quarter of 2017, Wärtsilä's order intake increased by 14% to EUR 1.3 billion from EUR 1.19 billion seen in the same period a year earlier. Similarly, the company's net sales were up by 8% to EUR 1.29 billion from EUR 1.19 billion for the respective quarters.
"The first half of 2017 was characterised by good development in net sales, largely due to an increase in the number of power plant deliveries, as well as by solid earnings," Jaakko Eskola, President & CEO, said.
Although the marine markets remain challenging, "a favourable vessel contracting mix supported the development of Marine Solutions' orders received, particularly in the second quarter. Activity in the service markets was broadly stable, with healthy demand for long-term agreements," Eskola added.
News content and pictures from:worldmaritimenews.com