First Steel Cut for P&O Cruises' Newest Ship
Views: 150 Author: UC Marine China Publish Time: 23-05-2018 Origin: www.ucmarine.com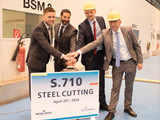 First Steel Cut for P&O Cruises' Newest Ship
P&O Cruises marked 'an important construction milestone' last month as it cut the first piece of steel for its newest ship.
The steel cutting ceremony was held at Meyer Werft shipyard in Papenburg on April 25.
Scheduled for delivery in 2020, the newbuild will be fueled by liquefied natural gas.
"This is the first time in 20 years that P&O Cruises has had a ship built by Meyer Werft (…) we look forward to continuing our successful partnership over the next couple of years to this ship's completion in 2020 and beyond," Josh Weinstein, Carnival UK president, commented.
At 180,000 tons, the ship has been described as Britain's biggest cruise ship.
"Our new ship will be the largest ship ever operated by the brand and the largest ever to be dedicated exclusively to the UK cruise industry. It will also be the first ship in our market to be powered by LNG, the most environmentally friendly power source yet for large-scale cruise ships," Paul Ludlow, P&O Cruises senior vice president, said.
"With UK passengers numbers set to top two million for the first time this year, we are confident in cruising's future and believe that there will be an exceptionally positive UK response to this ship," he added.
P&O Cruises will announce the name of its new ship on May 24. The company has invited members of the public to suggest a name, receiving over 30,000 submissions.
Currently, P&O fleet comprises seven ships, in addition to two new 180,000-ton LNG-powered vessels on order.