First of Ten Mammoth Ore Carriers Handed Over to CMES
Views: 11 Author: UC Marine Equipment Co., Ltd Publish Time: 23-03-2018 Origin: www.ucmarine.com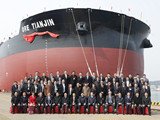 First of Ten Mammoth Ore Carriers Handed Over to CMES
A giant ore carrier Ore Tianjin has joined the Valemax fleet, the world's largest ship type intended for carrying iron ore.
The very large ore carrier, boasting 400,000 deadweight tonnes (dwt) capacity, was named and delivered on Thursday, March 22.
The ship was built by Qingdao Beihai Shipbuilding Heavy Industry, a subsidiary of China State Shipbuilding Corporation, for China Merchants Energy Shipping and ICBC Leasing.
Ore Tianjin is the first of ten ships ordered in 2016, out of which Qingdao Beihai Shipbuilding Heavy Industry will build four units. Four more Valemaxes will be built by Shanghai Waigaoqiao Shipbuilding (SWS), whereas the remaining two are assigned to China Merchants Heavy Industry (Jiangsu).
The ore carriers are intended for a long-term charter with Brazilian miner Vale.
Ore Tianjin is 362 meters long, 65 meters wide and 30.4 meters deep. Its deck area is equivalent to the size of three standard football fields.
The ship belongs to the second-generation of VLOCs featuring upgraded safety, environmental and energy saving features.
Ore Tianjin's delivery brings China Merchants's fleet to 12 400,000 VLOCs, with 19 second-generation 400,000-ton VLOC on order, making it the world's largest VLOC operator.
If you are interested in marine anchor windlass, marine winch, mooring chock, marine bollard, 15ppm bilge alarm, please contact UC Marine China for more details.