Fosen Yard and Hantong Shipbuilding to Set Up JV
Views: 10 Author: UC Marine Equipment Co., Ltd Publish Time: 17-07-2017 Origin: www.ucmarine.com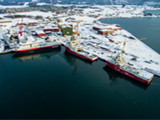 Fosen Yard and Hantong Shipbuilding to Set Up JV
Norwegian Fosen Yard and China's Hantong Shipbuilding agreed on July 7 to form a joint venture (JV) for building roll-on/roll-off passenger (RoPax), roll-on/roll-off (RoRo) and cruise vessels.
As informed, the new JV will be named Fosen Hantong and will become effective immediately.
The JV will utilize the technical, financial and market benefits of each party, Fosen explained.
With Hantong securing production capacity, production and financial support, Fosen Yards is to provide know-how and technical and operational solutions.
Fosen Hantong is expected to form a shipbuilding solution for the three above-mentioned sectors, offering "the joint complete value-chain."
Hantong intends to dedicate a shipyard facility to the JV. The shipyard's specific projects will as per the agreement between the parties be managed by Fosen.
Under the agreement, Hantong plans to cooperate exclusively with Fosen Yard for all business within the above-described segment initially for a period of eight years.
The duo is to establish a design and development company in Trondheim, Norway, with an aim to develop and provide marine design and technology.
News content and pictures from:worldmaritimenews.com