Grimaldi Christens New PCTC in Halifax
Views: 37 Author: UC Marine China Publish Time: 21-05-2018 Origin: www.ucmarine.com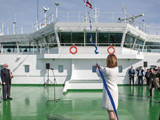 Grimaldi Christens New PCTC in Halifax
Grande Halifax, a pure car & truck carrier (PCTC) owned and operated by Italian Grimaldi Group, has been christened in Halifax, Nova Scotia.
The christening ceremony for the 63,000-ton ship took place at Halterm/Autoport on May 16, 2018.
Built at the Chinese shipyards of Jinling, the Grande Halifax has a length of 199.9 meters, a width of 32.26 meters, and a cruising speed of 19 knots.
Italian-flagged, it can carry 6,700 CEU or alternatively 4,000 linear meters of rolling freight and 2,500 CEU.
Equipped with four hoistable decks, the Grande Halifax is able to transport any type of rolling cargo with a height of up to 5.2 meters, according to the company.
In addition, the Grande Halifax has a side ramp and a quarter stern ramp, the latter allowing the loading of freight with a weight up to 150 tons. The configuration of the various decks and the system for the internal ramps reduce to the minimum the risk of damage during the loading/unloading operations, the company said.
What is more, the newbuild is fitted with an electronically-controlled main engine that allows complying with the new regulations for reducing NOx emissions, while the installed scrubber reduces sulfur oxide (SOx) emissions. It is also equipped with a ballast water treatment unit which will allow it to meet the future international regulations.
The Grande Halifax, together with another four PCTCs, is deployed on the Mediterranean-North America weekly RoRo service operated by the group, serving the ports of Halifax, Davisville, New York, Baltimore, Jacksonville, Houston, Tuxpan, Veracruz, Antwerp, Valencia, Savona, Livorno, Salerno, Gioia Tauro.
"ACL's services to Halifax began in 1967 and have been continuously provided for over 50 years. Today, our group's transatlantic services, including those of Grimaldi Lines, call Halifax about 140 times a year," Emanuele Grimaldi, Managing Director of the Grimaldi Group, said.