Immersion Suit Maintenance
Views: 162 Author: UC Marine China Publish Time: 25-05-2018 Origin: www.ucmarine.com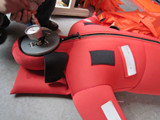 Immersion Suit Maintenance
Each immersion suit needs to be regularly checked and maintained properly in order to be ready for use all the time. The maintenance of the immersion suits kept on board of the vessels must be done according to the rules of the International Maritime Organization (IMO). There are two Guidelines issued by IMO - MSC/Circ.1047 and MSC/Circ.1114 in relation to immersion suits'maintenance.
The first one gives instruction for monthly inspection and maintenance which must be done by the ship's crew. The second one is concerning pressure testing which can be done only with special equipment. Usually it is done ashore by specialized companies but can be done also onboard of the vessels if practical. It must be performed every three years for immersion suits less than 12 years old and every second year on older ones. The years are counted from the suit's date of manufacture.
If you are interested in immersion suit, please contact us for more details. we also supply immersion suit test kits and solas survival suit.