LR Awards AiP to Natural Gas Operating Fleet Concept
Views: 15 Author: UC Marine China Publish Time: 13-04-2017 Origin: www.ucmarine.com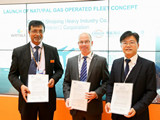 LR Awards AiP to Natural Gas Operating Fleet Concept
Finland's technology group Wärtsilä and COSCO Shipping Heavy Industry Co (CHI) have joined forces in the development of a natural gas operating fleet concept, a design which has now received Lloyd's Register's (LR) Approval in Principle (AiP) certificate.
The development project was carried out under the terms of a memorandum of understanding cooperation signed in June 2016 between the three companies.
The aim of the concept is to offer global operators a more efficient and economical fleet design that meets current and anticipated environmental requirements according to the classification rules. The fleet comprises four vessels; a pusher tug, LNG storage barge, LNG regasification barge, and a floating liquefaction natural gas barge, according to Wärtsilä.
"This is a new and innovative fleet concept that is designed to create better efficiencies for companies involved in any part of the natural gas supply chain. By combining CHI's know-how in this field with Wärtsilä' s vast technological competences, we have together taken yet another step forward in creating an optimal LNG supply chain," Sanjay Verma, Director, Business Development, South East Asia, Wärtsilä Marine Solutions, said.
The parties informed that the concept's main advantages are its operative flexibility, and the fleet's competitive CAPEX and OPEX costs. The project has attained the authority of China's National Patent Office and has been conceptualised by CHI. The design and engineering development, especially in relation to the hinge joint, mooring arrangement, ship type and seakeeping analysis, has also been carried out by CHI.
News content and pictures from:worldmaritimenews.com