MOL Develops VR Tool to Prevent Onboard Accidents
Views: 7 Author: UC Marine Equipment Co., Ltd Publish Time: 30-10-2017 Origin: www.ucmarine.com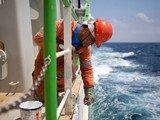 MOL Develops VR Tool to Prevent Onboard Accidents
Japan-based Mitsui O.S.K. Lines (MOL) has developed a mariner safety education tool goggle – using virtual reality (VR) technology – to help eliminate industrial accidents.
Created by Tsumiki Seisaku, the tool relies on VR technology to replicate various training scenarios and work operations, which have been a difficult task until now, offering a new level of realism and immersion.
As explained, the tool works on easily portable VR goggles, which make it possible for seafarers to train safely regardless of location, onboard or in an office or a training center.
"This tool will increase seafarers' safety awareness and contribute to the elimination of onboard industrial accidents caused by unsafe behavior in actual operation by using VR technology and defining safety measures," MOL said in a statement.
Initially, the training content focuses on preventing accidental falls, a major cause of injuries, and will be expanded to cover other training needs.
MOL intends to introduce the tool to more vessels while expanding the range of simulated experiences to provide more training in onboard safety.
What is more, the company and Mitsui Engineering & Shipbuilding (MES) have been jointly developing practical use applications and commercialization of the next-generation ship management support system and the current data collection and monitoring systems, providing the basis for a new system.
According to MOL, this initiative will allow enhanced operating support from shore-side systems and personnel. The two companies are working to reduce the environmental impact of vessel operation by preventing problems and reducing the oil consumption, such as bunker fuel oil, which in turn cuts exhaust emissions.