MOL Rolls Out Total Residual Oxidants Instrument
Views: 9 Author: UC Marine Equipment Co., Ltd Publish Time: 01-12-2017 Origin: www.ucmarine.com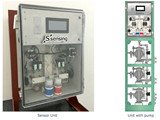 MOL Rolls Out Total Residual Oxidants Instrument
Mitsui O.S.K. Lines, Ltd. (MOL) today announced commercialization of the Total Residual Oxidants (TRO) instrument "S.sensing®WS," one of the major components of the Ballast Water Management System (BWMS), developed by Kurita Water Industries Ltd. with the cooperation of MOL's group company MOL ENGINEERING CO., LTD. In addition, MOL Techno-Trade, Ltd. will handle sales activities for the new product.
BWMS are categorized as "UV type," "electrolysis type," "chemical type," and "ozone type." All except for the UV type sterilize harmful organisms in ballast water with various active substances. Therefore, accurately measuring the density of those active substances significantly impacts the effectiveness and treatment costs. The newly developed instrument realizes more accurate measurement of density by adding MOL ENGINEERING's know-how covering functions, size, operability from the standpoint of crewmembers who are involved in ballast water management onboard, to Kurita Water Industries' analysis technology, accumulated over many years of involvement in water treatment.
The product's performance was confirmed in an onboard test on MOL-operated vessels that lasted more than three months. In addition, Kurita Water Industries' ballast water management system, "KURITA BWMS," which incorporates "S.sensing®WS," acquired type approval from Japanese Government (Ministry of Land, Infrastructure, Transport and Tourism) in September 2017, certifying conformity to the G8 Guidelines for ballast water management equivalent compliance.
The MOL Group continually contributes to environmental protection with advancing technologies to reduce the environmental impact.
S.sensing®WS Main Specification
*"DPD system" : detect coloring degree by adding chemicals to the water including TRO
*Equipped with newly developed 2-range (high density area, low density area) ultra-compact high-performance sensor
*Two systems can be measured simultaneously by one instrument. (free combination of ranges)
*Operating costs can be reduced by setting up easy-to-manage reagents onboard.
*Equipped with a sensor that automatically detects when chemical supply runs low.
*Equipped with automatic cleaning function in the reagent system in anticipation for long-hour shut-down of the instrument.
*Equipped with output function for various data
*Size:Sensor unit (400(W) x 216(D) x 465(H) mm)
*Pump unit (400(W) x 400(D) x 1,600(H) mm)