MV Werften Starts Construction of 1st Global Class Ship
Views: 7 Author: UC Marine Equipment Co., Ltd. Publish Time: 08-03-2018 Origin: www.ucmarine.com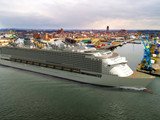 MV Werften Starts Construction of 1st Global Class Ship
Germany's shipbuilder MV Werften launched construction works on the first Global Class ship, the largest cruise ship to be built in Germany, on March 8.
Two steel cutting ceremonies were held, one at MV Werften's Wismar yard and another in the Rostock yard. Both sites will be needed to manufacture the 204,000 gross ton Global Class ship for the Hong Kong-based cruise line Star Cruises, owned by Genting Hong Kong.
Production will take place in parallel in Wismar and Rostock, with final assembly to be carried out in the Wismar yard. The first Global Class ship is to be delivered at the end of 2020. Around 600 companies are involved in the construction process.
After designing the Global Class ships for the last three years and investing over EUR 210 million to make MV Werften the-state-of-the-art cruise shipbuilding yard in the last two years, "we are very pleased to finally start construction on the first Global cruise ship," Tan Sri Lim Kok Thay, Chairman and CEO of Genting Hong Kong, said.
"These ships are not only the largest cruise ships to be built in Germany; they are also the most technologically advanced with artificial intelligence. The Global Class ships will follow the embrace of Asians of artificial intelligence in their daily lives, with facial and voice recognition for most services onboard and robots to perform mundane tasks, allowing the crew to focus on service delivery," he added.
The Global Class ships, which are designed specifically for the rapidly growing Asian cruise market, will be 342 meters long and 46.40 meters wide with a draft of 9.50 meters. The ship will be able to accommodate about 5,000 passengers in 2,500 cabins based on a twin share basis.
MV Werften's orderbook includes six more ships, to be completed by 2021. Construction on the second Global Class ship will begin in early 2019 for delivery at the end of 2021.