Marine Coatings Jotun and Kansai Paint Bundle Activities
Views: 61 Author: UC Marine China Publish Time: 14-12-2018 Origin: www.ucmarine.com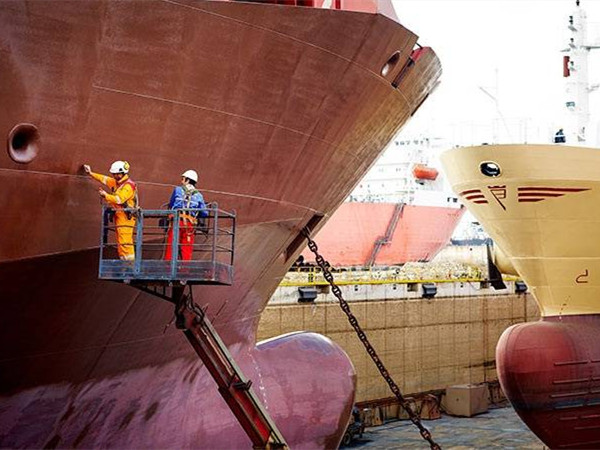 Marine Coatings Jotun and Kansai Paint Bundle Activities
The global provider of marine coatings Jotun and Japanese coating supplier NOF Kansai Paint have signed an agreement to develop their existing alliance. The partners are now looking to emulate the success they've achieved in the Marine segment in the Protective Market.
Jotun and Kansai Marine Coatings signed an agreement forming the SeaStar Alliance in 2002, at this time, they had already worked together for many years and the alliance was a development inherent in that long co-operation.
The partnership has led to the development of antifouling brands such as SeaQuantum, which is now the world leader in antifouling based on Silyl technology. Over 10,000 vessels have received SeaQuantum applications, providing outstanding fouling protection and unparalleled hull performance for up to 90 months.
Jotun's successful Hull Performance Solutions (HPS) fully complies with the ISO 19030 standard, prescribing practical methods for measuring changes in ship-specific hull and propeller performance.
Jotun sees the extension of this relationship as a natural evolutionary step. A collaborative approach to marine has paid huge dividends, sharing knowledge and use one another's innovation and industry expertise to access opportunities and build a product portfolio of unparalleled quality.
The new agreement signed this fall, covers the global Protective segment. Jotun already has a strong worldwide position in the international market, providing high performance products for sectors such as: wind power, hydropower and thermal (energy); hospitals, stadiums and airports (infrastructure); offshore installations, refineries, petrochemical plants and gas processing facilities (hydrocarbon industry).
UC Marin China can supply the following equipment for vessels:
Marine Life Saving Equipment: Self-Righting Inflatable Life Raft, Open-Reversible Inflatable Life Raft, Davit-launched Self-righting Inflatable Liferaft, Totally Enclosed Lifeboat and Rescue Boat,FRP Open Type Lifeboat, Marine Life Jacket RSCY-A4, Marine Children Life Jacket, PVC Foam Working Life Jacket, SOLAS Approved Immersion Suit, Survival Suit, Marine Evacuation System, SOLAS Approved Life Buoy, General Type Lifebuoy Light.
Pollution-Prevention Equipment: OCM-15 type 15ppm Bilge Alarm, BilgMon 488 type 15ppm Bilge Alarm, 15ppm Bilge Alarm for Oil Water Separator, Reverse Osmosis Fresh Water Generator, Plate Type Fresh Water Generator, Fuel Oil Sampling Device, Drip Type Bunker Sampler Flange, DNVPS Line Sampler, Oil Only Sorbent Pads, Oil Only Absorbent Pillows, Oil-Only White Sorbent Rolls, Oil Only Polypropylene Absorbent Socks, Chemical Spill Absorbent Pads, Hazmat Chemical Sorbent Rolls, Hazmat Sorbent Polypropylene Socks, Yellow Hazmat Sorbent Pillows, Gray Universal Absorbent Pads, Universal Sorbent Rolls, Gray Polypropylene Sorbent Socks, Gray Universal Absorbent Pillows.
Marine Kitchen Equipment: Marine Large Electromagnetic Cooker, Marine Stainless Steel Electric Rice Steamer, Marine Stainless Steel Electric Griddle, Marine Cooking Range with Oven, Marine Electric Tilting Bratt Pan, Marine Microwave Oven, Marine Dumpling Machine, Marine Steamed Bread Machine, Marine Electric Meat Grinder, Marine Electric Water Boiler, Shipboard Flake-ice Machines, Seawater Flake Ice Machine, Marine Rubbish Press Baling Machine, Marine Life Rubbish Baler Machine.