NYK, MC Name Their 1st Sayaringo STaGE LNG Carrier
Views: 8 Author: UC Marine Equipment Co., Ltd Publish Time: 19-04-2018 Origin: www.ucmarine.com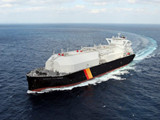 NYK, MC Name Their 1st Sayaringo STaGE LNG Carrier
Nagasaki Shipyard of Mitsubishi Heavy Industries hosted a christening ceremony for a new liquefied natural gas (LNG) carrier owned by Diamond LNG Shipping, a joint venture between Mitsubishi Corporation and Nippon Yusen Kabushiki Kaisha (NYK).
The ship was named Diamond Gas Orchid by Hidenori Takaoka, executive vice president of Mitsubishi Corporation.
The ship is the first Sayaringo STaGE type vessel that features more efficient hull structure and an innovative hybrid propulsion system, the shipbuilder said. Namely, the design integrates a continuous steel cover that reduces ship weight and air resistance while increasing LNG-carrying capacity.
In addition, it is equipped with a hybrid propulsion system named STaGE (Steam Turbine and Gas Engines), a highly efficient reheating steam-type marine turbine, and a dual-fuel diesel engine capable of operating on both gas and oil.
Diamond Gas Orchid specifications
*Length overall: 293.5 meters
*Breadth: 48.94 meters
*Gross tonnage: 144,828 tons
*Main engine: STaGE (Steam Turbine and Gas Engines)
*Cargo tank capacity: 165,000 cubic meters
*Flag: Bahamas
After delivery on June 29, the Diamond Gas Orchid will start transporting LNG for the Cameron LNG Project, a project in the U.S. state of Louisiana in which Mitsubishi Corporation and NYK Line are jointly participating.
Diamond LNG Shipping has a long-term time-charter contract with Diamond Gas International Pte, a wholly-owned subsidiary of MC located in Singapore.
The NYK Group will be responsible for ship management. If you are interested in marine anchor windlass, marine winch, mooring chock, marine bollard, marine anchor and anchor chain, please contact UC Marine China for more details.