New Orders Pouring Into South Korean HHI
Views: 13 Author: UC Marine China Publish Time: 19-04-2017 Origin: www.ucmarine.com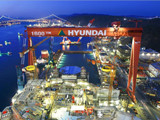 New Orders Pouring Into South Korean HHI
South Korean shipbuilder Hyundai Heavy Industries (HHI) reported USD 2.04 billion-worth of newbuilding orders in the first quarter of 2017, up by 22.9 percent when compared to the corresponding figures from last year.
The shipbuilding segment booked USD 763 million worth of orders, surging by 226.07 percent against last year's 234 million, HHI said in a report.
However, the company's offshore and engineering arm saw a 65 percent drop in ordering activity with USD 51 million worth of orders. HHI's industrial plant and engine and machinery sectors were also hit by a decrease in ordering activity by 50 and 17 percent respectively.
Boosting the company's order intake were, inter alia, Greek shipowner Enesel that ordered two 300,000-ton very large crude carriers (VLCC) and DHT Holdings that also ordered a VLCC pair earlier this year in addition to CLdN's RoRo duo.
The results are in line with the shipbuilder's recovery recorded in full-year results for 2016 as HHI's net profit came at USD 596.6 million, returning from a loss of USD 1.18 billion seen in 2015.
The turnaround came after a variety of revamping measures HHI implemented to sharpen its competitiveness including management improvement plan and reorganizing affiliated companies. Namely, in February this year, HHI got an approval from shareholders to reorganize its businesses into separate companies so as to bolster its financial status.
Separately, earlier this month, HHI Group revealed plans to invest USD 1.8 billion in research and development (R&D) programs by 2021 through its newly established independent shipbuilding company – Hyundai Heavy Industries.
Under the plan, the new HHI intends to invest in developing eco-friendly and smart ships, enhancing offshore engineering capability, and establishing smart shipyards.
News content and pictures from:worldmaritimenews.com