Nine BW Vessels Join DHT Holdings' Fleet
Views: 10 Author: UC Marine Equipment Co., Ltd Publish Time: 27-06-2017 Origin: www.ucmarine.com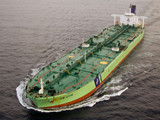 Nine BW Vessels Join DHT Holdings' Fleet
Nine very large crude carriers (VLCCs), acquired from the BW Group Limited, have been delivered to crude oil tanker company DHT Holdings.
The vessels were purchased as part of a batch of eleven VLCCs, including two newbuildings due for delivery in 2018, in March 2017.
DHT added that the contracts for the two newbuildings have also been transferred from BW.
"The delivery of the fleet acquired from BW has been conducted in a speedy and efficient manner, speaking volumes of the professionalism and commitment by everyone involved both onshore and onboard the ships," senior management said.
The company financed the acquisition, worth a total of USD 538 million, by issuing some USD 256 million of capital stock, consisting of 32 million shares of common stock and 15,700 shares of preferred stock that are mandatorily convertible into 15.7 million shares of common stock subject to DHT shareholder approval.
DHT earlier said that it also plans to pay BW Group USD 177.36 million in cash and assume USD 104.16 million in remaining obligations with respect to the two newbuildings.
The company now has a fleet of 30 VLCCs, 26 in the water and four under construction scheduled for delivery in 2018, as well as two Aframaxes. The total dwt of the fleet is around 9,49 million.
"Our fleet has expanded by about 50% at what we think is an opportune time in the cycle. The transaction will deliver cost synergies by lowering G&A expenses per ship and is projected to be accretive to DHT's earnings. Importantly, it will further improve our already competitive cash break even levels," the company added.
News content and pictures from:worldmaritimenews.com