PaxOcean Lays Keel for RAmparts 2800-DF
Views: 47 Author: UC Marine China Publish Time: 24-11-2018 Origin: www.ucmarine.com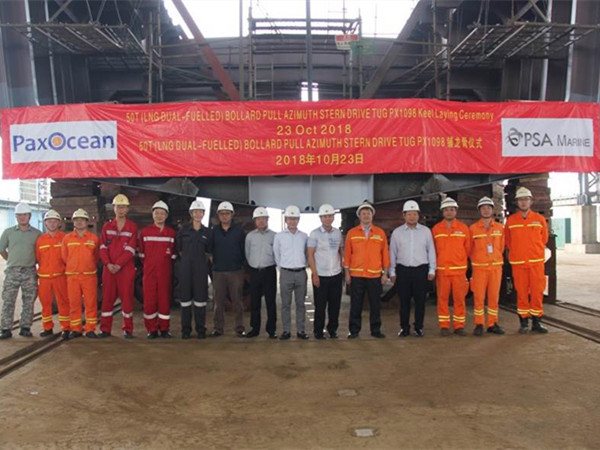 PaxOcean Lays Keel for RAmparts 2800-DF
Singapore based construction specialist of rigs, semi-submersibles and specialised offshore vessels PaxOcean held the keel laying ceremony of PSA Marine's first dual fuel ship-handling tug at its facility in Zhuhai, China. We can provide lifesaving equipment for Dual Fuel Ship-Handling Tug, such as life boats, life rafts, life jackets, etc.
Earlier, Robert Allan, the designer of LNG tugs, has been selected to design the very first RAmparts 2800-DF for PSA Marine.
Peter Chew, Managing Director and Lim Bock Kee, Senior General Manager (Special Projects) of PSA Marine attended the ceremony.
Robert Allan designed the RAstar 4000-DF for Østensjø Rederi, Norway and RAstar 3800-DF for Ningbo Port, China. The cooperation between Robert Allanand PSA Marine began in 2002, with the design of Z-Tech tug series.
PSA Marine is a marine services provider with flagship operations in Singapore.
UC Marin China can supply the following equipment for dual fuel ship-handling tug:
Marine Life Saving Equipment: Self-Righting Inflatable Life Raft, Open-Reversible Inflatable Life Raft, Davit-launched Self-righting Inflatable Liferaft, Totally Enclosed Lifeboat and Rescue Boat,FRP Open Type Lifeboat, Marine Life Jacket RSCY-A4, Marine Children Life Jacket, PVC Foam Working Life Jacket, SOLAS Approved Immersion Suit, Survival Suit, Marine Evacuation System, SOLAS Approved Life Buoy, General Type Lifebuoy Light.
Pollution-Prevention Equipment: OCM-15 type 15ppm Bilge Alarm, BilgMon 488 type 15ppm Bilge Alarm, 15ppm Bilge Alarm for Oil Water Separator, Reverse Osmosis Fresh Water Generator, Plate Type Fresh Water Generator, Fuel Oil Sampling Device, Drip Type Bunker Sampler Flange, DNVPS Line Sampler, Oil Only Sorbent Pads, Oil Only Absorbent Pillows, Oil-Only White Sorbent Rolls, Oil Only Polypropylene Absorbent Socks, Chemical Spill Absorbent Pads, Hazmat Chemical Sorbent Rolls, Hazmat Sorbent Polypropylene Socks, Yellow Hazmat Sorbent Pillows, Gray Universal Absorbent Pads, Universal Sorbent Rolls, Gray Polypropylene Sorbent Socks, Gray Universal Absorbent Pillows.
Marine Kitchen Equipment: Marine Large Electromagnetic Cooker, Marine Stainless Steel Electric Rice Steamer, Marine Stainless Steel Electric Griddle, Marine Cooking Range with Oven, Marine Electric Tilting Bratt Pan, Marine Microwave Oven, Marine Dumpling Machine, Marine Steamed Bread Machine, Marine Electric Meat Grinder, Marine Electric Water Boiler, Shipboard Flake-ice Machines, Seawater Flake Ice Machine, Marine Rubbish Press Baling Machine, Marine Life Rubbish Baler Machine.