Red Eagle Spreads Its Wings
Views: 60 Author: UC Marine China Publish Time: 10-12-2015 Origin: www.ucmarine.com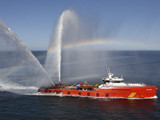 Red Eagle Spreads Its Wings
P&O Repasa, a new company formed by the acquisition of the majority of the shares in Spanish towage firm Repasa by P&O Maritime, has taken delivery of Damen's Fast Crew Supplier 5009 Red Eagle which will be operated from Malabo on Bioko Island, Equatorial Guinea.
According to Damen, the Red Eagle will ferry personnel and equipment, and supply drinking water and fuel, to offshore rigs and platforms.
The 50-metre FCS 5009, built at Song Thu Shipyard in Vietnam, was customized for P&O Repasa at Damen Shipyards Singapore.
Special features have been added such as FiFi1 system, a hydraulic crane and reefer plugs.
Furthermore, a fast rescue craft has been mounted on a davit for rapid launch and recovery along with transfer pumps for the supply of fuel and drinking water.
While the FCS 5009 class can take up to 80 personnel, the Red Eagle has been configured for 50.
Following the works in Singapore, it sailed 7,000 nm non-stop across the Indian Ocean to Damen Shipyards Cape Town on its own hull in 20 days, where it had a short bunker stop and underwent final preparations before sailing the final 2,400 nm to Bioko Island to begin work in the Gulf of Guinea.
P&O Repasa is looking to expand into fast intervention for the offshore industry in areas including the west coast of Africa.
News content and pictures from:worldmaritimenews.com