Royal Caribbean Expands Sailings To Cuba In 2018
Views: 7 Author: UC Marine Equipment Co., Ltd Publish Time: 01-12-2017 Origin: www.ucmarine.com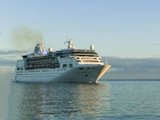 Royal Caribbean Expands Sailings To Cuba In 2018
Royal Caribbean International will double its opportunities for a Cuba adventure next summer, with two ships sailing to the island nation – Majesty of the Seas and Empress of the Seas – and two new destinations added to itineraries. The added sailings and breadth of experiences at the new ports of Santiago de Cuba and Cienfuegos on the southeast coast give adventure seekers even more ways to immerse themselves in the culture and history of the vibrant island. Cuba's historic cities of Havana, Santiago and Cienfuegos will be amongst the destinations on an array of 4- to 8-night Caribbean adventures on Empress of the Seas that open for sale today.
Departing from Miami year-round, Empress cruise vacations will include 7-night Best of Cuba itineraries to Cienfuegos, Havana and Nassau, Bahamas; 5-night sailings visiting Key West, Florida and spending the night in Havana; and an immersive 8-night journey to Cienfuegos, Santiago de Cuba, Grand Cayman, and Labadee, Haiti. Majesty of the Seas will continue the 4- and 5-night offerings to Havana that include day and overnight stays, departing from Tampa from April to October 2018, and Ft. Lauderdale from November 2018 to March 2019. All sailings to Cuba will offer shore excursions designed for guests to experience the destination and to comply with the people-to-people educational exchange activities requirement as set forth in the U.S. regulations.
"Cuba is such an important part of Caribbean culture, and we can't wait to call on Santiago de Cuba and Cienfuegos next year, showcasing even more of the country's scenic beauty, rich history and distinctive architecture," said Michael Bayley, President and CEO, Royal Caribbean International. "Cruising remains the easiest way to visit Cuba, and with both Empress and Majesty sailing there in 2018 and 2019, we hope to make it that much easier for adventure seekers to experience the legendary island."
Cienfuegos is a UNESCO World Heritage Site established in 1819 with a wide array of visually-stunning attractions, including acclaimed Botanical Gardens with more than 2,000 plant species on display, impressive neoclassical architecture, a 950-seat opera house and the bustling Santa Isabel Boulevard.
Santiago de Cuba is a gateway to Cuba's revolutionary and religious history, with adventures such as the UNESCO World Heritage-listed Castillo del Morroto, the Sierra Maestra foothills, El Cobre – one of the most significant religious destinations in Cuba – and historic sites like Revolution Square.
Cuban culture is reflected throughout Empress of the Seas with cortaditos and café con leche in Café Royal, salsa music and dancing in Boleros Latin lounge, and a range of onboard activities developed to bring the spirit of the island to life while at sea. Empress of the Seas spans 11 guest decks, encompasses 48,563 gross registered tons, carries 1,602 guests at double occupancy and features 795 staterooms.