SOLAS Regulations for Immersion Suits
Views: 14 Author: UC Marine China Publish Time: 08-05-2018 Origin: www.ucmarine.com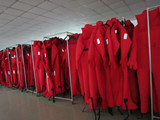 SOLAS Regulations for Immersion Suits
The following are the SOLAS Regulations for Immersion Suits; to know how many immersion suits are present onboard a ship, one should refer to the "fire control and safety plan":
*Each person on board the ship must have his/her own personal immersion suit. Also, extra immersion suits should be provided for the watchkeepers
*Immersion Suits may be of the kinds that are Insulated, Un-insulated, wearable with life jacket (all should have sufficient buoyancy)
*Made of waterproof material
*Internationally RED in color which is highly visible. Note that most other LSA equipment is bright ORANGE
*The immersion suit should be unpacked and donned within a time frame of 2 minutes without any external help or assistance
*The individual must be able to jump from a height of at least 4.5 meters into water without injury to life of any damage to the immersion suit
*The suit should be able to cover the whole body except the face. Hands should be covered unless permanently attached gloves are provided
*Retro-reflective tapes must be fitted
*It shall not sustain burning or continue to melt after being totally enveloped in a fire for a period of 2 seconds
*Normal work must be able to be carried out upon wearing
*The wearer should be capable of climbing up and down a vertical ladder of at least 5 meters in length
*The wearer must be able to swim a short distance
*The immersion suit is worn in cold weather when the temperature is below the freezing point
*The suit does not allow the body temperature to drop by more than 2 degrees when immersed for a period of 6 hours when the water temperature is between 0 and 2 degrees
*The wearer of the suit, with or without the lifejacket shall be able to turn from a face down position to a face-up position in not more than 5 seconds
*If a lifejacket is required along with the immersion suit, then it should be worn over the immersion suit and without assistance
If you are interested in immersion suit,immersion suit test kits, please contact us for more details.