STX Offshore & Shipbuilding Is Planning To Cut 800 Jobs
Views: 12 Author: UC Marine China Publish Time: 23-11-2015 Origin: www.ucmarine.com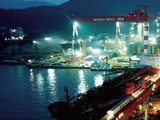 STX Offshore & Shipbuilding Plans Jobs Cull to Stave Off Collapse
South Korean shipbuilder STX Offshore & Shipbuilding is planning to cut 800 jobs and focus entirely on the construction of tankers in an attempt to recover from financial troubles, the Korea Herald reports.
Tankers are equipped with boilers, propellers, generators, pumps and fire fighting equipment in addition to tanks and pipelines.
Quoting STX chief executive Lee Byung-mo, the Korea Herald writes that this makes a total of 30 percent of the company's current workforce of around 2,600. The remaining 1,800 workers can expect a 10% cut in their salaries, Lee said in a leaked internal email.
The CEO said that STX also wants to revamp the organizational structure, adding that if the company continues with the current management system it "will lead to the firm's collapse within the first half of 2016."
STX aims at abandoning its offshore and special ship business, which will turn the company, currently one of the world's top five shipbuilders, into a medium-sized enterprise.
The staff cuts and the operational streamlining are a response to the demands of the company's largest creditor, the Korea Development Bank, for a 50% reduction in the company's fixed expenses.
The shipbuilder recorded KRW 26.5 billion (USD 20.3 million) net loss in the first six months of its current financial year.
News content and pictures from:worldmaritimenews.com