Saudi Arabia Bahri Adds 38th VLCC
Views: 9 Author: UC Marine China Publish Time: 12-06-2017 Origin: www.ucmarine.com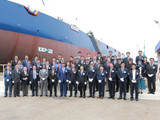 Saudi Arabia Bahri Adds 38th VLCC
The National Shipping Company of Saudi Arabia (Bahri) has taken delivery of Maharah, a 300,000 dwt very large crude carrier (VLCC), from South Korean shipbuilder Hyundai Heavy Industries (HHI).
The newbuilding was handed over to Bahri during a delivery ceremony held at HHI Mokpo shipyard in South Jeolla Province, South Korea, on June 12.
With a gross tonnage of 154,252 tons, Maharah features a length of 330 meters and a width of 60 meters.
Currently, the Saudi Arabia-flagged vessel has a market value of 79.2 million, VesselsValue's data shows.
As disclosed, Bahri Oil, one of Bahri's six business units, will be responsible for the commercial operation of Maharah.
This is the second VLCC delivery for the company so far this year. In February, the 300,000 dwt Amjad joined Bahri's multipurpose fleet of 84 vessels.
"The addition of Maharah further strengthens our position as the world's largest owner and operator of VLCCs… We celebrate this important milestone only months after accepting delivery of our 37th VLCC Amjad… In current times, fleet growth is critical to offsetting low spot market rates, and the timing of this delivery could not have been better," Ahmed Ali Al-Subaey, Bahri's Board Member, commented on the occasion.
"The partnership between Bahri and Hyundai Heavy Industries spanning over a decade has been highly successful, with 26 vessels ordered and delivered to date and 8 more VLCCs currently on order, among which 3 will be delivered this year," Ali Al-Harbi, Bahri's Acting CEO, said.
In April, Bahri revealed plans to re-flag 32 of its VLCCs and five of its mid-size carriers under the domestic flag by the end of 2017. As earlier explained, the registration of the company's 37 VLCCs under Saudi Arabian flag is aimed at enhancing the Kingdom's position in the International Maritime Organization's (IMO) global rank lists and at increasing the size and efficiency of the Saudi Arabia's fleet.
Last month, Bahri and HHI inked a memorandum of understanding (MOU) to cooperate in the field of big data. Under the MOU, the two companies will jointly develop smart ship solutions and apply them to ships operated by Bahri.
News content and pictures from:worldmaritimenews.com