Shanghai Dingheng Shipping Sets Sights on Building 100 Ships in Next Decade
Views: 3 Author: UC Marine Equipment Co., Ltd Publish Time: 22-01-2018 Origin: www.ucmarine.com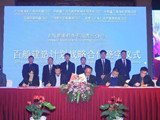 Shanghai Dingheng Shipping Sets Sights on Building 100 Ships in Next Decade
Chinese tanker owner Shanghai Dingheng Shipping has inked a strategic cooperation agreement with local shipbuilders and steel and equipment manufacturers for its plan of constructing 100 ships in the next ten to twenty years.
The company's parent Dinghen Group said that the strategic agreement was signed on January 20, 2018 in Shanghai and that the signatories included Ningbo Xinle Shipbuilding (Group) Co., Guangzhou Diesel Engine Factory, CSIC Wuhan Marine Machinery Plant, Shanghai Baosteel Special Steel Co, and CSIC Diesel Engine Co, among others.
Under the Hundred of Ships Construction Plan, the firm plans to build small and medium-sized chemical tankers.
The plan is line with the company's ambitions of transforming itself from a local player to an international tanker owner and the One Belt, One Road Initiative.
As informed, Tunku Ismail, Prince Regent of Johor, Malaysia has expressed great interest in the program in line with Malaysia's petrochemical strategy. In addition, the prince is said to have launched talks with Petronas, Qatar National Petroleum Corporation, Kuwait National Petroleum Company, Bahrain National Oil Company and Bahrain National Bank on providing cargo and financing for the project.
Consultations are being held with relevant authorities and definitive agreements are expected to be disclosed soon, the company said.
The shipping company's ambitious fleet bolstering plans were hinted in October 2017, when Shanghai Dingheng Shipping inked a deal with Ningbo Xinle Shipbuilding Group on the construction of ten 9,000-tonne stainless steel chemical tankers.
Dingheng added that it had reached a preliminary agreement with the shipyard on the construction of ten additional 6,000-tonne stainless steel chemical tankers.