Singapore to Develop Autonomous Vessels
Views: 9 Author: UC Marine Equipment Co., Ltd Publish Time: 25-04-2018 Origin: www.ucmarine.com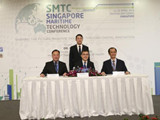 Singapore to Develop Autonomous Vessels
The Maritime Port Authority of Singapore (MPA) is looking to boost its productivity and enhance safety by introducing autonomous harbor ships.
The port authority has signed a Memorandum of Understanding (MOU) with Keppel Offshore & Marine (Keppel O&M) and the Technology Centre for Offshore and Marine, Singapore (TCOMS) to jointly develop autonomous vessels.
The vessels would be used for a variety of applications including harbor operations such as channeling, berthing, mooring and towing operations.
"Our partnership with Keppel O&M and NUS TCOMS allows us to test the operations of autonomous vessels such as harbor tugs in our port waters as well as the interface between such vessels and our future vessel traffic management systems. As one of the world's busiest ports, Singapore provides an excellent test-bed for autonomous systems which will have to meet the highest standards of safety and security," Andrew Tan, Chief Executive of MPA, said.
Keppel O&M said it plans to use its remote vessel monitoring and analytics programme, VesselCareTM, as the base platform in the initial phase to develop autonomous vessels. The platform is able to perform data consolidation, condition based monitoring and maintenance, mining and analytics of vessels.
"As a leader in the design and construction of specialized vessels, we have been developing advanced remote monitoring and analytics systems for vessels," Chris Ong, CEO of Keppel O&M, said.
"The industry is keen to explore the commercial use of autonomous vessels as there are multiple safety, efficiency and cost benefits."
During the advanced stages of monitoring and controlling a vessel, the project will develop a Digital Twin of the tug which will simulate vessel behavior to help optimize the vessel operations using data analytics and visualization tools.
TCOMS will contribute to the project with its expertise in coupled physical-numerical modeling and simulation aimed at improving the predictability and control of the behavior and response of the vessel.
"The behavior of marine vessels in challenging operating conditions is complex and to some extent still poorly understood. This is one key technical challenge that we seek to address, to ensure that autonomous vessels could operate safely and reliably while enhancing efficiency and productivity," Prof. Chan Eng Soon, CEO of TCOMS, added.
If you are interested in 15ppm bilge alarm, marine electronic inclinometer, fresh water maker, mooring chock, marine bollard, please contact UC Marine China for more details.