South Korea Tops Global Shipbuilding Industry in July
Views: 17 Author: UC Marine China Publish Time: 14-08-2018 Origin: www.ucmarine.com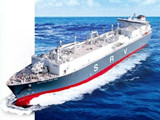 South Korea Tops Global Shipbuilding Industry in July
South Korea maintained its number one ranking in the global shipbuilding market in July. The South Korean yards were responsible for almost half of all new orders placed in July 2018.
According to Clarkson Research, Korea received orders in July totaling 970,000 compensated gross tonnage or CGT, a measure of work needed to build a vessel. That accounts for about fifty percent of the month's global shipbuilding orders.
Yonhap reported that it is a sign of the industry's possible recovery after years of struggling with a global downturn.
South Korea ranked first with new orders worth 4.96 million CGTs, or 115 vessels, in the first six months of this year, marking the first time in three years to be at the head of the pack in the first half. Chinese shipbuilders came second with 4.39 million CGTs, or 203 ships.
In July, the global order backlog increased by 38 percent to 2.01 million CGTs from the previous month, according to Clarkson Research.
Chinese yards came next with 280,000 CGTs, or 15 ships, accounting for 14 percent of the total, with Japanese firms in third place with 120,000 CGTs to build six ships, according to the data. Trailing in third place is Japan with 120,000.
Clearly, Korea retook the lead from China during the first half of this year in three years. During the January to July period, the Korean shipbuilders recorded 4.96 million CGTs, beating their Chinese rivals, which recorded 4.39 million CGTs.