Stena Bulk's Newest MR Tanker Christened in Rotterdam
Views: 9 Author: UC Marine Equipment Co., Ltd Publish Time: 29-06-2017 Origin: www.ucmarine.com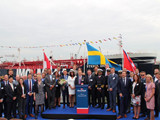 Stena Bulk's Newest MR Tanker Christened in Rotterdam
Swedish tanker shipping company Stena Bulk has named Stena Impeccable, the tenth of thirteen IMOIIMAX tanker newbuildings.
The christening ceremony took place at the Port of Rotterdam on June 28 where the 50,000 dwt vessel arrived at the beginning of this week.
"The Port of Rotterdam is the largest port in Europe and our fleet often calls there. That's why we also have many business contacts in the area and we took the opportunity to gather them in conjunction with this naming ceremony," Erik Hånell, President and CEO of Stena Bulk, commented.
Following its delivery in early March, Stena Impeccable sailed from China to Australia. The newbuild then sailed from New Guinea via Singapore and the Suez Canal to Rotterdam.
After the naming ceremony, the vessel left Rotterdam for Brake in Germany.
Stena Impeccable was built at the Chinese shipyard Guangzhou Shipbuilding International (GSI) like all the 13 IMOIIMAX tankers ordered by Stena Bulk – both delivered and under construction.
The vessel is wholly owned by Stena Bulk, operated by Stena Weco and sails in the company's global logistics system, which currently employs around 60 vessels.
Six of the 13 IMOIIMAX tankers are wholly owned by Stena Bulk, four together with Singapore's palm oil company Golden Agri Resources (GAR), two by Stena Bulk's sister company Concordia Maritime and one in partnership with Weco.
So far, ten tankers have been handed over to Stena Bulk and its partners, with the remaining three expected to be delivered by 2018.
News content and pictures from:worldmaritimenews.com