Stolt-Nielsen Orders 2+3 LNG Carriers at Keppel Singmarine
Views: 11 Author: UC Marine Equipment Co., Ltd Publish Time: 24-05-2017 Origin: www.ucmarine.com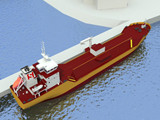 Stolt-Nielsen Orders 2+3 LNG Carriers at Keppel Singmarine
Singapore-based Keppel Singmarine has secured a contract worth a total of SGD 103 million (USD 74.2 million) to build two small-scale LNG carrier vessels for Stolt-Nielsen Gas B.V., a subsidiary of Stolt-Nielsen Limited.
As part of the contract, Keppel Singmarine has also secured options to build another three similar units for Stolt-Nielsen Gas.
The latter has 6, 12 and 18 months from the effective date of the contract to exercise the options respectively.
The two LNG carriers are expected to be completed in the second and the third quarter of 2019, respectively.
They will each have a capacity of 7,500m3, and come equipped with engines that can run on both diesel and LNG. The carriers will have class notations for bunkering, Keppel said.
There is a growing demand for small-scale LNG carriers especially for end users located in remote areas not served by pipelines, Keppel said. Tighter regulation on emissions continues to encourage growth in small-scale LNG projects which are economical and quick to market.
News content and pictures from:worldmaritimenews.com