TORM to Feature Scrubbers in Newbuildings
Views: 25 Author: UC Marine China Publish Time: 17-08-2018 Origin: www.ucmarine.com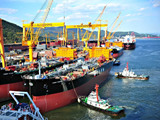 TORM to Feature Scrubbers in Newbuildings
Danish shipping company TORM is installing scrubbers to its vessels, allowing them to continue running on high sulfur fuel oil after the International Maritime Organization's marine fuels sulfur limit is cut in 2020.
A press release from the company said that it has decided to install scrubbers on 14 vessels including all vessels currently on order and the three LR2 vessels that were delivered earlier in 2018.
These vessels have a scrubber-prepared design and there are no changes to the delivery schedule. As of today, TORM's scrubber program covers four LR2s, two LR1s and eight MRs.
Danish producer tanker group's Executive Director Jacob Meldgaard says: "We have continued to take steps to further renew and optimize our fleet by taking delivery of one LR2 newbuilding in the second quarter and exercising newbuilding options for three MR vessels. In addition, we have to date decided to install scrubbers on 14 of our vessels to prepare for the expected consequences of the IMO sulfur emission directive that will come into force in 2020."
In early April 2018, TORM exercised newbuilding options for three MR vessels for a total net consideration of USD 93m of which USD 63m is financed by banks. The three vessels are scheduled to be delivered in 2019 through the first quarter of 2020.
TORM took delivery of two LR2 newbuildings in the first quarter of 2018 and on 20 April 2018 a third newbuilding, TORM Hellerup, was delivered. In June 2018, TORM redelivered the chartered LR2 vessel TORM Margrethe to its owner after expiry of the charter period. As of 30 June 2018, TORM's fleet consists of 74 owned vessels, four chartered-in vessels and ten vessels on order.
Meldgaard's comments came the day after fellow Danish shipping group Norden said it had ordered scrubber equipment for 26 of its vessels.